Meimei-an Tea House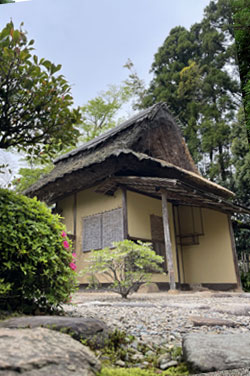 Meimei-an was built in the main residence of the Arisawa family in Tonomachi, Matsue City, according to the taste of the 7th feudal lord of the Matsue Domain Matsudaira Fumai, who is known as a master of tea ceremony. Lord Fumai often visited it.
It was temporarily moved to the residence of Count Matsudaira in Tokyo, but was later returned to his hometown of Izumo by the Matsudaira family, and moved to Haginodai, next to Kogetsutei of Arisawa Sanso, where Kanden-an was located in 1928.
After World War II, it was poorly maintained and was in ruins; but in 1966, it was moved to the current grounds of Akayama on the occasion of the 150th anniversary of Lord Fumai.
On the thickly-thatched gabled roof, a plaque reading "Meimei-an" written by Lord Fumai himself is displayed by the entrance.
Meimei-an is a casual tea house. A shallow alcove in the tea room is made of five and a half cedar strips. The Nijyoudaime tea room has no central pillars and the furnace is Mukougiri. We can get a glimpse of Lord Fumai's tastes, which do not care about the formula.