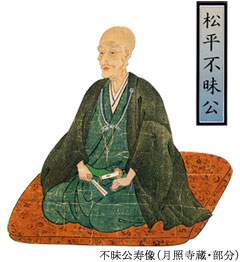 Portrait of Lord Fumai
1751-1818
Unshu Matsue Domain 7th Lord
His given name was Harusato, and his childhood name was Tsurutaro. He also had names such as Mioan, Ichiichisai, Sounou, and Fumai. The name Fumai was given to him by Edo Tenshinji Temple's priest Daiten. It was taken from the chapter "Furakufumai" in the book called Mumonkan Hyakujoyako. The Lord especially loved this name.
At the age of 17, he raided the territory, and with the support of Asahi Tamba, his chief retainer, he reformed the administration of the domain and achieved great results.
He also learned tea ceremony early on, and at the age of 20 he taught the Shinnodaisu tea ceremony. In his essay on the tea ceremony, "Mudagoto," he admonished extravagance in tea ceremonies and advocated that they should be a source of self-regulation.
As the territory became richer, he devoted himself to collecting famous tea utensils. He also wrote many books, including the 18-volume Kokonmeibutsuruiju. He was persuaded that the specialties of the collection should be treasured for generations, the items catalog are known as "Unshu Kurachō."
He died at the age of 68 in Edo-Osaki on April 24, 1818, the first year of Bunsei.
Portrait of Lord Fumai (Gesshoji-temple storehouse)
Lord Matsudaira Fumai family tree